Suomalainen messu -konsertti klo 15.00 ja klo 18.00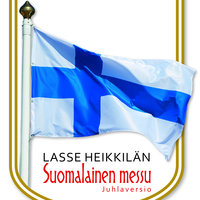 Tietotien lukio, Tietotie 3 37630 Valkeakoski
Suomalainen messu, juhlavuoden 2017 uudistettu versio. Kansanmusiikki-ja tanssiryhmä Valkia, Lasse Heikkilä, Re-For You -kuoro, joht. Maaret Manni-Korpi sekä eri solisteja. Liput 15 / 5 € ( lapset ja nuoret 7-18-v.) Klo 15 näytökseen ilmainen bussikuljetus.
Suomalaisen messun juhlaversio 2017 nyt nähtävissä, kuultavissa ja koettavissa Valkeakoskella! Liput 15 € / 5€ ( lapset 7-alle 18 vuotta) käteisellä ovelta klo 14.20 alkaen sekä klo 17.20 alkaen. Liput myynnissä ennakkoon kirkkoherranvirastosta sen aukioloaikoina viikolla 20 (15.5.-19.5. ma, ti, to ja pe). Juhlapuhe kirkkoherra Markku Antola. Juonto Lasse Heikkilä ja Helmi Hollström. Klo 15 näytökseen ilmainen linja-autokuljetus. Lähtö Sointulan keskuksesta klo 14. Reitti: Sointulan keskus – Apiankatu – Ulvajankatu – Tallikatu – Lempääläntie – Roukontie – Painontie – Eerolantie – Salomaantie – Kaakonojantie – Mäntyläntie – Lukio. Paluu samaa reittiä messun loputtua.
Lasse Heikkilän Suomalainen messu toteutetaan juhlaversiona konserttisaleissa ja kirkoissa eri puolilla Suomea 2017.  Noin puolentoistatunnin mittaisen sävelteoksen aikana katsojat pääsevät keskelle suomalaisen luonnon kauneutta multimediaesityksenä, vierailevat monissa suomalaisuuden musiikkityyleissä pohjalaisesta uhosta Itä-Suomen iloisuuteen sekä voivat elää uudelleen satavuotisen Suomen ilot ja surut. Teos koskettaa monin tavoin itsenäisyyden ajan historiaa ja on musiikillisesti sukua suomalaiselle kansanmusiikille. Runebergin perinnön viitoittamalla tiellä eri heimojen tunnuspiirteet erottuvat tyylien ja tunnelmien kirjoissa. Tekstissä hehkuvat suomalaiset luontokuvat.
Lasse Heikkilän Suomalainen messu on messun muotoon rakennettu sävelteos. Se esitettiin ensimmäisen kerran marraskuussa 1998 Turku-areenalla ja vuosituhannen vaihteen jälkeen esittämistä varten perustettu Valkia-ryhmä esitti sen erilaisissa yhteyksissä peräti 250 kertaa.
Juhlavuoden toteutukseen rakennetaan teoksesta juhlavampi ja näyttävämpi versio. Juhlaversio tuo esiintyjien taakse heijastettavan kuvamateriaalin.  Korkealaatuinen videomateriaali vie esiintyjät luontomaisemiin vaihtuvien vuodenaikojen keskelle. Arkistomateriaalin avulla siirrytään välillä sota-aikaan ja muihin kansakuntamme historian vaiheisiin. Laulajat ja tanssijat maalaavat elävän taustan eteen musiikin ja liikkeen ilotulituksen, jota pelimanniryhmä säestää.
Suomen lipun tapaan Suomalainen messu muistuttaa nykypolvia kristinuskon merkittävästä roolista maamme itsenäistymisen aikoihin. Sen hengellisyys nousee kansamme yhteisistä juurista. Suomalainen messu ei kuitenkaan leimaudu minkään kirkkokunnan tai herätysliikkeen omaisuudeksi. Se sopii koko kansan yhteiseen juhlaan.
Suomalaisesta messusta on tullut nopeasti klassikko. Monet sen lauluista löytyvät useista laulukirjoista ja eri artistien äänitteiltä. Kymmenet musiikkiryhmät ja kuorot ovat työstäneet omia versioitaan teoksesta sekä konsertti- että jumalanpalvelustoteutuksina. Myös siirtolaiskohteet ulkomailla ovat ottaneet messun omakseen, kuvaahan se juuri heidän historiaansa vertaansa vailla olevana kokonaisuutena. Messu on käännetty Pohjanmaalla myös ruotsinkielelle ja esitetty rannikkoseudun ruotsinkielisillä alueilla.
Palautteen mukaan Suomalainen messu on nostattanut tervettä kansallista itsetuntoa ja saanut monet iloitsemaan suomalaisuudestaan aivan uudella tavalla. Se yhdistää luontevalla tavalla kaikki Suomen heimot yhden kokonaisuuden, itsenäisen Suomen, sisään.
---
Kirkkomuusikko, Musiikkipedagogi YAMK. Virkavapaalla 1.11.2019-30.8.2020
Valkeakoskenkatu 27
37600 Valkeakoski
Konserttivastaava kanttori, yhteistyökuorojen- ja muiden musiikkitahojen yhteyshenkilö. Tavoitettavissa parhaiten ke, to tai pe.
Olen toiminut Sääksmäen seurakunnan kanttorina vuodesta 2013. Työhöni kuuluu jumalanpalveluksia, häitä, hautajaisia, musiikkitilaisuuksia, kuoro- ja konserttitoimintaa, hartauksia esim. laitoksissa, rippikoulua, yhteislaulutilaisuuksia jne. Myös kokoukset, yhteydenpito eri tahoihin, suunnittelu ja harjoittelu ovat osa työtäni.
Musisointi ja erilaisten ja eri-ikäisten ihmisten kohtaaminen ovat jatkuvia iloni aiheita. Kaikessa on läsnä rakastava ja armollinen Isä, jonka kanssa ja varassa saan kulkea.