Christmas with Elvis Presley songs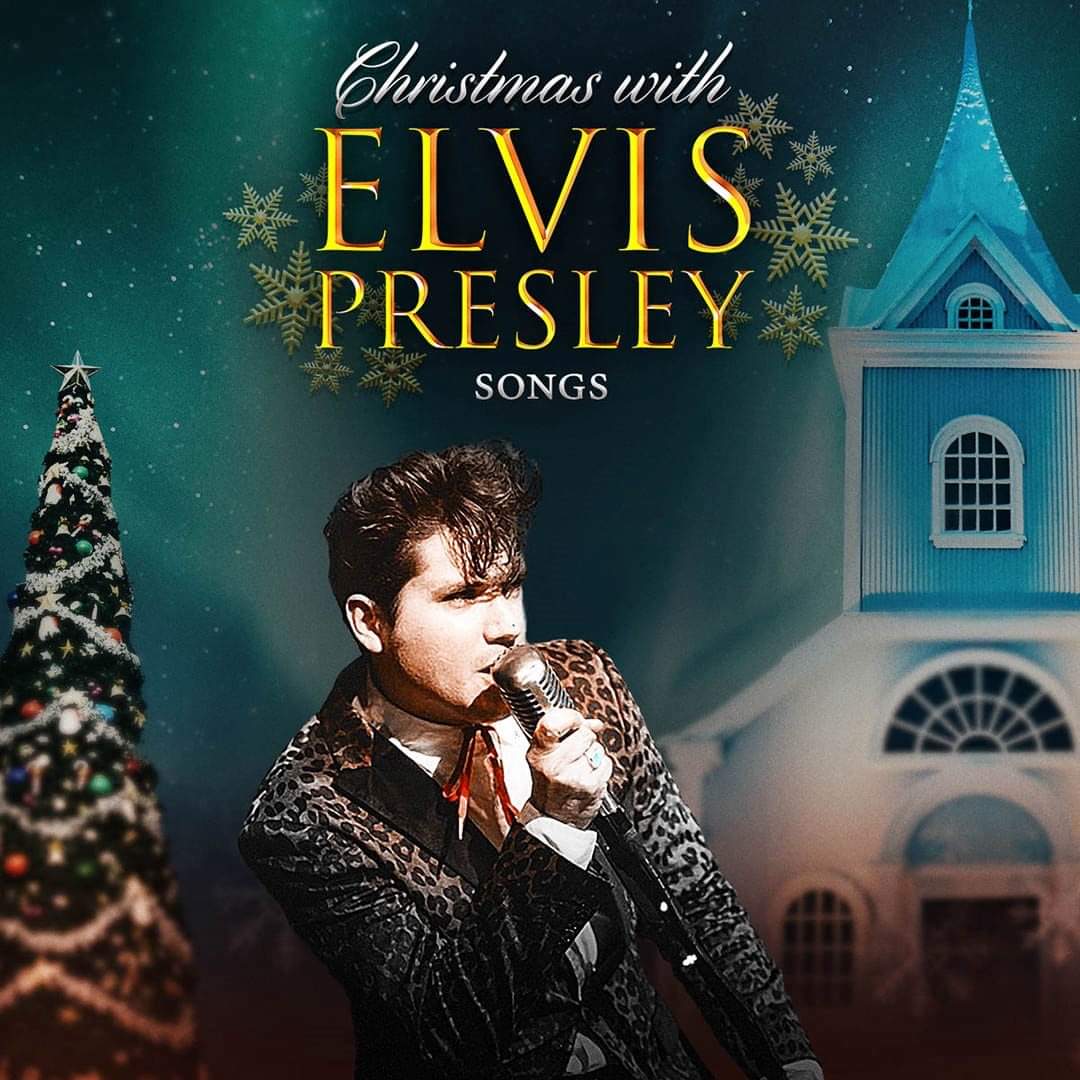 Konsertissa kuullaan Elviksen kauneimpia joululauluja ja hartaita balladeja.
CHRISTMAS WITH ELVIS PRESLEY SONGS
SÄÄKSMÄEN KIRKKO, VALKEAKOSKI
PERJANTAI 20. PÄIVÄ JOULUKUUTA
IKIMUISTETTAVA, JOULUINEN KIRKKOKONSERTTI ELVIKSEN TYYLIIN!
SOLISTINA VICTOR TREVINO JR, LAS VEGAS

 

 

 

 

CHRISTMAS WITH ELVIS PRESLEY SONGS

 

Christmas With Elvis Presley Songs on legendaarisen Elvis Presley'n levyttämään ja konserteissa esittämään joulumusiikkiin perustuva laajamittainen konserttikiertue suomalaisissa kirkoissa.

 

Solistina konserteissa esiintyy huipputason amerikkalainen Elvis-imitaatttori Victor Trevino Jr.

 

Kiertue alkaa 14. marraskuuta Törnävän kirkossa, Seinäjoella ja päättyy 20. joulukuuta Sääksmäen kirkossa, Valkeakoskelle. Kiertue käsittää yhteensä 24 kirkkokonserttia eri puolilla Suomea.

 

Useita jouluaiheisia levyjä urallaan levyttäneen ja suureksi joulun ystäväksi tunnustautuneen Elviksen ohjelmistosta Christmas With Elvis Presley Songs  –konsertissa kuullaan muun muassa sellaisia tuttuja ja koskettavia lauluja kuin "Winter Wonderland", "Silent Night", "Blue Christmas, "Peace In The Valley", "Swing Down Sweet Chariot", "O'Holy Night", "Silver Bells", "Little Drummer Boy", "Crying In The Chapel" ja "Amazing Grace".

 

Konsertin ohjelmistossa korostuu Elviksen suuri mieltymys hengelliseen gospel-musiikkiin.

 

 

 

 

VICTOR TREVINO JR

 

Teksasista kotoisin oleva, mutta nykyään Las Vegasissa vaikuttava sympaattinen Victor Trevino Jr on nuoresta iästään huolimatta Elviksen musiikin tulkitsijana aivan omaa luokkaansa.

 

Vanhempani tutustuttivat minut Elviksen musiikkiin jo ollessani lapsi. Siitä alkoi minun kiinnostukseni ja intohimoni Elvistä ja Elviksen musiikkia kohtaan, Victor kertoo.

 

26-vuotias Victor Trevino Jr on esiintynyt Elvis-imitaattorina jo useita vuosia konsertoiden niin Yhdysvalloissa, Aasiassa, Etelä-Amerikassa kuin Euroopassakin. Hän on erikoistunut Elviksen alkuaikojen uraan ja levytystuotantoon ja panostanut huimia summia rahaa hankkiakseen esiintymisasuikseen mahdollisimman aidon oloisia ja näköisiä Elvis-vaatteita. Victorin mielestä maailmassa on "vain YKSI ainoa Elvis Presley", jota ei voi verrata keneenkään muuhun tähtiartistiin, mutta esiintyessään hän haluaa kuitenkin herättää henkiin sen saman maagisen energian, hurjuuden ja taituruuden, jonka Elvis niin suvereenisti hallitsi.

Victor Trevino Jr käväisi alkukeväänä Suomessa, kahdeksan konserttia käsittäneen Viva Las Vegas – The 3 Elvis  Show'n matkassa yhdessä kahden muun "Elviksen", Kraig Parkerin ja Al Joslinin kanssa. Hän ihastui Suomeen joistakin vastoinkäymisistä huolimatta.

 

Tulimme silloin helmikuussa Suomen paukkupakkasiin suoraan Karibian risteilyltä. Siellä oli niin tavattoman kylmä, että henkeä salpasi. Ja Helsingin konsertissa heti konsertin alkumetreillä mikrofoni irtosi telineestä ja osui minua suuhun. Onneksi hampaat säästyivät, Victor muistelee huvittuneena.

 

– Muistoni Suomesta ovat kuitenkin myönteiset. Harvoin olen tavannut niin paljon ystävällisiä ihmisiä missään, ja yleisö konserteissa oli aivan fantastista. On kiva tulla takaisin Suomeen nimenomaan joulun aikaan!

 

Victorin lukuisat ihailijat ovat kuvailleet hänen esiintymistään: "Jos suljet silmäsi, kuulet Elviksen laulavan! Ja jos avaat silmäsi, niin näet Elviksen esiintyvän!"

ELVIS PRESLEY JA JOULU

 

Historian kirjojen mukaan Elvis Presley rakasti joulua! Hänen uskovainen perheensä kuului First-Assembly of God –nimiseen seurakuntaan, jonka järjestämissä jumalanpalveluksissa isä Vernon, äiti Gladys ja Elvis säännöllisesti nähtiin. Joulukirkossa käyminen kuului luonnollisesti perheen perinteisiin.

 

Myöhemmin, uransa huippuaikoina Elviksen kerrotaan erityisesti joulun aikaan muistaneen sukulaisiaan, läheisiään ja ystäviään ylellisillä joululahjoilla kuten Cadillaceilla, televisioilla ja koruilla.

 

Mielenkiintoista on se, että jo kolmas Elviksen urallaan levyttämä albumi vuonna 1957 oli nimenomaan joululevy nimeltä Elvis' Christmas Album. Levy sisälsi muun muassa sellaiset jouluklassikot kuin "White Christmas", "Silent Night", "Blue Christmas" ja "Take My Hand, Precious Lord".  Uransa aikana Elvis teki useita hyvin menestyneitä jouluaiheisia levyjä.

 

KIERTUE    

14.11. Törnävän kirkko, Seinäjoki

15.11. Palosaaren kirkko, Vaasa

22.11. Mikkelin Tuomiokirkko

23.11. Kolmen Ristin Kirkko, Imatra

24.11. Hartolan kirkko, Hartola

25.11. Taulumäen kirkko, Jyväskylä

26.11. Ristinkirkko, Lahti

29.11. Pedersören kirkko, Pietarsaari

30.11. Oulujoen kirkko, Oulu

1.12. Sotkamon kirkko, Sotkamo

3.12. Joensuun keskuskirkko, Joensuu

5.12. Kokemäen kirkko, Kokemäki

7.12. Uskelan kirkko, Salo

8.12. Tuusulan kirkko, Tuusula

9.12. Espoonlahden kirkko, Espoo

10.12. Hyvinkään kirkko, Hyvinkää

11.12. Lauritsalan kirkko, Lappeenranta

12.12. Vihdin kirkko, Vihti

13.12. Savonlinnan tuomiokirkko, Savonlinna

14.12. Kalevan kirkko, Tampere

17.12. Sippolan kirkko, Kouvola

18.12. Korson kirkko, Vantaa

19.12. Hämeenlinnan kirkko, Hämeenlinna

20.12. Sääksmäen kirkko, Valkeakoski

 

Konsertit alkavat kello 18.30. Konsertin kesto noin 75 minuuttia.

 

LIPUT

 

Lipunmyynti alkaa 29.8.: www.ticketmaster.fi  ja www.lippu.fi

 

Ennakkoon 25 € / ovelta 30 €

 

LISÄTIEDOT

 

Lehdistöpäällikkö: Lasse Norres, lasse@norres.fi

Tapahtumajärjestelyt: RH-Entertainment Oy, Marko Riihelä, marko@prodisco.fi 
---
Järjestäjä
RH Enterteinment
Ota yhteyttä
Kirkkomuusikko, Musiikkipedagogi YAMK
Valkeakoskenkatu 27
37600 Valkeakoski
Konserttivastaava kanttori, yhteistyökuorojen- ja muiden musiikkitahojen yhteyshenkilö. Tavoitettavissa parhaiten ke, to tai pe.
Olen toiminut Sääksmäen seurakunnan kanttorina vuodesta 2013. Työhöni kuuluu jumalanpalveluksia, häitä, hautajaisia, musiikkitilaisuuksia, kuoro- ja konserttitoimintaa, hartauksia esim. laitoksissa, rippikoulua, yhteislaulutilaisuuksia jne. Myös kokoukset, yhteydenpito eri tahoihin, suunnittelu ja harjoittelu ovat osa työtäni.
Musisointi ja erilaisten ja eri-ikäisten ihmisten kohtaaminen ovat jatkuvia iloni aiheita. Kaikessa on läsnä rakastava ja armollinen Isä, jonka kanssa ja varassa saan kulkea.